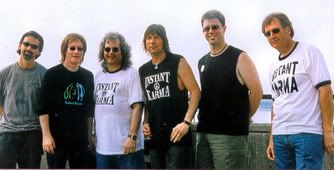 Beatle Tribute Band - Instant Karma
Instant Karma takes you on a Magical Mystery Tour through the life and music of John Lennon.
The band covers his whole career from his "Teddy Boy" roots and 1950's Rock and Roll influences, to his signature Beatles era, all the way up through his solo career...from The Plastic Ono Band to his Double Fantasy/Milk and Honey Albums.
At an Instant Karma show you will hear songs like "Starting Over", "Imagine", "Mind Games", "#9 Dream", "Jealous Guy". You will hear the John Lennon hits and the obscure songs such as "Isolation", "God", "Mother" and "Out of the Blue", to name a few. Of course, at an Instant Karma show you are guaranteed to hear the John Lennon/Beatles hits like "In My Life", Strawberry Fields Forever", "Lucy In The Sky With Diamonds", "Help", "I Am The Walrus", "I Wanna Hold Your Hand", and many more.
The songs are played with lots of love and affection and with great respect to our Musical Hero. Instant Karma is a true tribute to the life and music of a true Musical Genius.
Instant Karma
Happy X-mas on WGN-TV
Slipping and Sliding
Jealous Guy - Beatleweek 2007 Liverpool
Hey Bulldog!
For more information about Instant Karma...
visit their
[website]
, see their
[schedule]
or visit their
[myspace]
More Video pages:
[Beatles]
&nbsp
[John Lennon]
&nbsp
[Paul McCartney]
&nbsp
[George Harrison]
&nbsp
[Ringo Starr]
[Beatletube A-Z Video Library]
&nbsp
More Beatles Bands
[Band page]
[The Cavern Beat]